When you set about organising your ski trip there are lots of elements to bear in mind. Having your accommodation and travel sorted out is a weight off your mind but the next question you might ask yourself is; do you really need ski lessons? You've already spent a small fortune to get to and stay in a resort. Are you ready to part with more cash for someone to boss you around on the slopes? Perhaps your friends can give you some tips or perhaps you've had lessons in the past and don't think you need them anymore.
I'm a good skier, why would I book lessons?
It's faire to say you probably don't NEED ski lessons. But ask yourself; what could you get out of a ski lesson if you did have one? If you're a good skier you probably love skiing but what you found enjoyable earlier in your skiing career might not give you the same thrill anymore. You might find yourself wanting to try something new or push your skills to new heights. Booking a private instructor for yourself (or your family) could be the thing that keeps your passion for skiing fired up. With a private instructor the resort is your oyster. You can explore areas that you've never explored before, ski the off-piste itineraries of your dreams, perfect your technique on the steeps, tighten your slalom turns, smash moguls, have a fling with freestyle… you get the idea. Taking an instructor / guide will broaden and deepen your experience of skiing.
I'm an intermediate skier, do I need ski lessons?
Intermediate in ski terms is very broad and covers the majority of skiers. You might call yourself an intermediate if you no longer consider yourself to be a beginner, or if you mostly ski on blue rated ski slopes, or you have anything between 3 – 8 week's skiing under your belt. You might have found that your technique has plateaued and you can't progress beyond being an average or intermediate skier. Would lessons be useful in any of these scenarios? I think you probably know the answer…
YES! Ski lessons are an investment in yourself
Booking a ski holiday involves committing a (not-insubstantial) amount of money to skiing (lift pass, equipment, clothing, not to mention the travel and accommodation). Why spend all this money to skimp on the thing that could make or break your holiday? By investing in ski lessons you will inevitably improve your technique and your confidence on the mountain. With improved technique comes less effort, aches and pains and with improved confidence comes more enjoyment. You will be able to make more of the skiing and your time on the mountain. By investing in ski lessons you will be able to take in new views, experience different slopes and have more fun. Does that sound like a good return on investment? If it does then read on to work out the best option for you.
Group lessons are a good for intermediate skiers who have progressed from beginner status but haven't yet mastered all the elements of good ski technique. Group lessons are also great from a social point of view as you will ski with other people of similar level. Adult group ski lessons tend to take place every morning. Before you book, consult the level-finder to work out which group will suit your ability and experience the best.
Private lessons are a good choice if you want a 'ski MOT'. In this case the instructor will evaluate your technique and give you personalised coaching to help you improve. This is a great option if you have lost confidence or want to work on a particular element of your skiing technique.
I've never skied before, do I really need lessons?
Erm, well, what do you think? If you have never skied before or only skied on a dry slope or in an indoor snow centre then the answer is YES. Skiing can be extremely enjoyable both whilst learning and once you have acquired some skills. But, be warned, skiing can also be challenging to learn and without proper tuition can be frustrating and potentially dangerous both to you and other people on the slopes. Learning in a group with a qualified and experienced instructor is the fastest, cheapest, most effective and arguably the most enjoyable way to learn how to ski.
Can my partner teach me to ski?
If money is tight you might be tempted to ask a partner, friend or family member to teach you to ski. But stop a minute, is this really going to give you the result you're looking for? Before you go down this path ask yourself these questions:
Will they be able to offer you good advice?

Will you have their undivided attention?

Do they know the right slopes to take you on?

Do they have any bad habits that they might pass onto you?

Are they patient?

Will they spot any errors you make and teach you how to correct them?

Will they help build your confidence?

Do they really want to teach you? (After all, it is their holiday too)
If you are a beginner skier, we don't' recommend you rely on the 'expertise' of someone in your group. Instead, book yourself into group lessons (5 or 6 ski lessons over the course of a week) and let yourself be taught by a professional. You won't regret it. Your professional instructor will have trained for 4-8 years (yes, really!) and will have the know-how to start you on the road to skiing competently.
Can Beginners Take Private Ski Lessons?
YES! Beginners can take private ski lessons. If you prefer one-to-one attention, are particularly nervous, don't feel comfortable in a group environment or have any other special requirements, private lessons are the best option. In general, you won't need as many hours of private lessons as group lessons as the tuition you get is tailored to you, rather than to the group as a whole. You could also team up with another beginner in a private lesson to split the cost.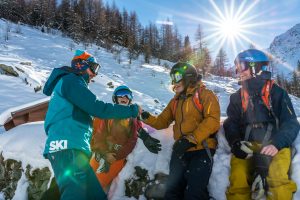 So should I take a lesson?
What we are trying to say is that taking a ski lesson with a professional instructor, regardless of your level, is never a waste of time or money. Ski lessons are an investment in you and your holiday experience. Ski lessons have the potential to turn your ski holiday from a good time into something extraordinary, in which you achieve tangible goals, explore new horizons and experience the slopes like never before. So stop thinking about whether you need ski lessons and start thinking about what ski lessons can add to you ski holiday experience this year.